(Version française par ici)
Are you keen to escape this winter and relax in a warm and magical tropical atmosphere?
Join us for a week full of yoga, wellness, discovery & delights in Bali, in a beautiful Balinese villa perched on the heights of Bingin Beach on the Bukit Peninsula!
---
Solo, couple or with friends, come immerse yourself in the Balinese atmosphere, closer to the ocean. Relax, deepen your practice and just enjoy!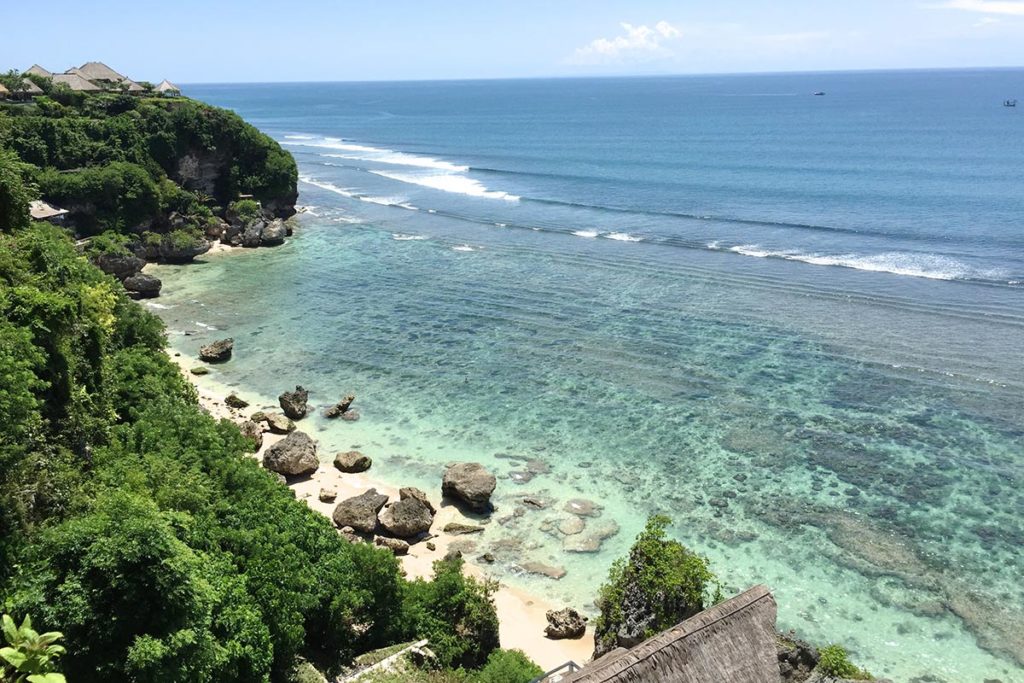 The Location
Bingin is located in the Bukit Hills in southern Bali, a region renowned for its white sand beaches and superb surf spots. Just a 2 minutes walk from our villa to reach is the top of the Bingin Beach cliff where a 150-foot path leads you to the beach where you can swim in the clear water, sunbathe, chill in one of the small restaurants at the beach or surf. Other beautiful beaches are nearby, Uluwatu 10 minutes and Uluwatu Temple 15 minutes by car.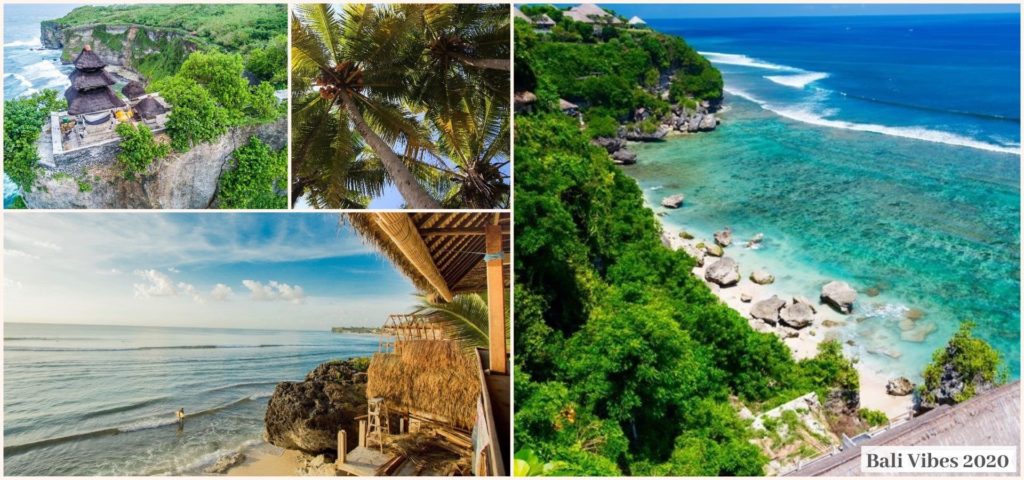 The Villa
Villa Bingin Retreat is a magnificent eco-designed luxury property hidden in the hills overlooking the ocean just 2 minutes from the beach. This incredible eco-lodge features traditional Javanese Joglo bungalows designed with recycled teak wood and beautiful open communal areas. In the tropical garden located is an open yoga shala and a gorgeous flower-shaped pool. An amazing place located in an area both authentic and peaceful Bali.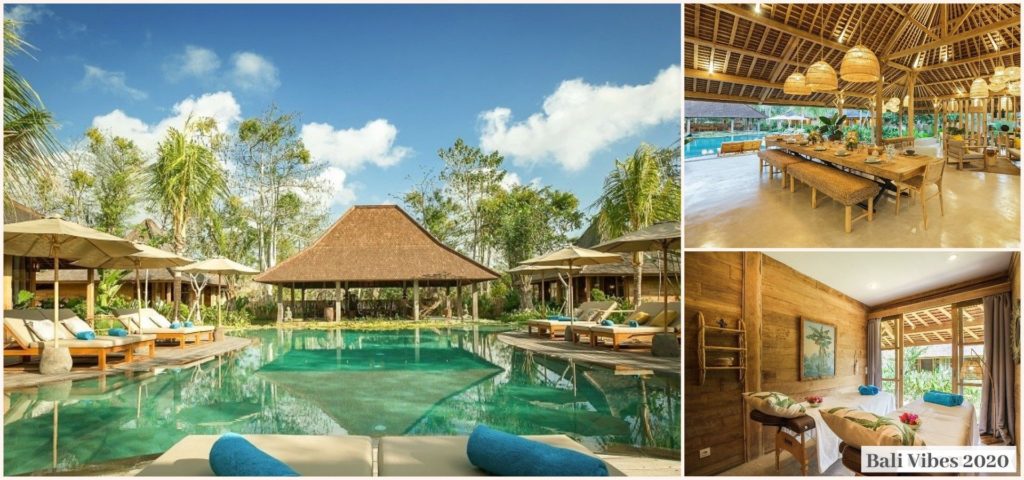 The living and relaxing room is nestled in a beautiful traditional Javanese Joglo open house, overlooking the pool and garden, with a high roof made of recycled teak wood shingles, allowing you to enjoy the tropical climate of Bali. You will have a wide choice to sit and relax, between deep quilted sofas, comfortable reading chairs and chaise lounges with cushions and pillows. There is a small kitchen with bar and stools for a drink together or even cook, and a professional chef's kitchen.
The beautiful dining table in massive teak will welcome us for meals.
The flower-shaped infinity pool is surrounded by a teak deck and chaise lounges, creating idyllic relaxation areas to relax and enjoy the sun, working your tropical tan in a relaxed atmosphere.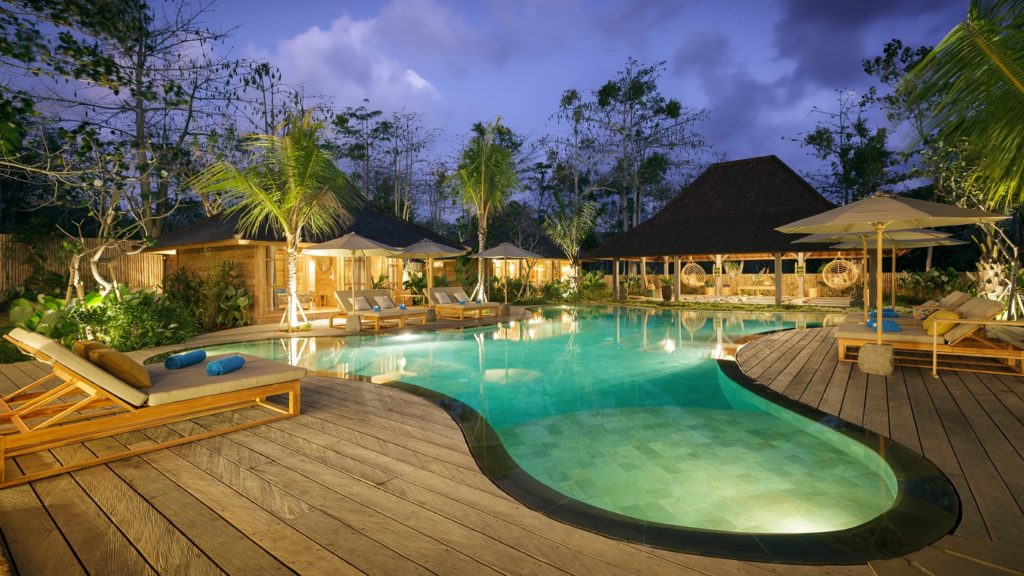 Villa Binging Retreat also has a private spa with 2 massage beds – a place of pure relaxation and happiness!
Yoga
Every morning: a dynamic Yoga session (Vinyasa Flow, Ashtanga)
Every evening: a relaxing Yoga session (Sweet Hatha, Yin, Restorative)
The open shala offers a magnificent view of the garden and pool. A wonderful place for our daily yoga & meditation practices!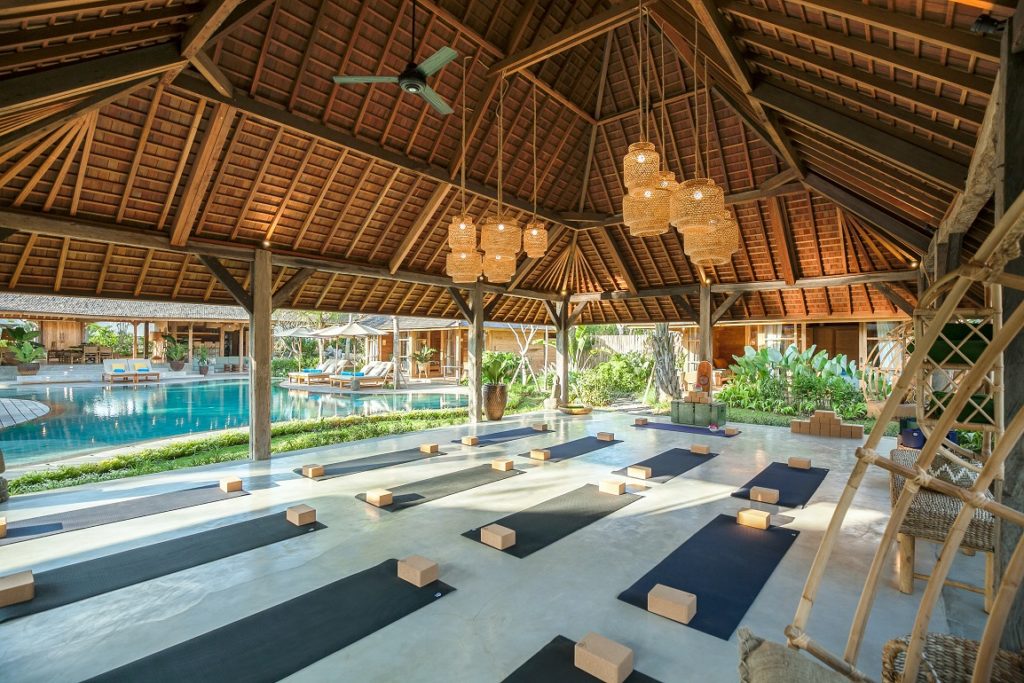 The courses are accessible to all levels, whether you are beginners or advanced practitioners, we will offer during the practices the appropriate options allowing you to deepen your practice and move forward with confidence.
Your Stay
Arrival Saturday, February 8 afternoon / evening.
Each day will begin, after a light snack, with a revitalizing Hatha Flow / Vinyasa / Ashtanga yoga class (accessible to all levels) in the shala followed by a delicious brunch that will give you the energy to go to discover the beauties of Bali, its beautiful beaches and its wonderful people, or simply enjoy peacefully the inviting pool of our Balinese villa.
Optionally, we can arrange surfing lessons on nearby Bingin, Uluwatu, Padang Padang, or group or solo getaways to explore Bali, rice paddies, waterfalls, temples, and so much more treasures.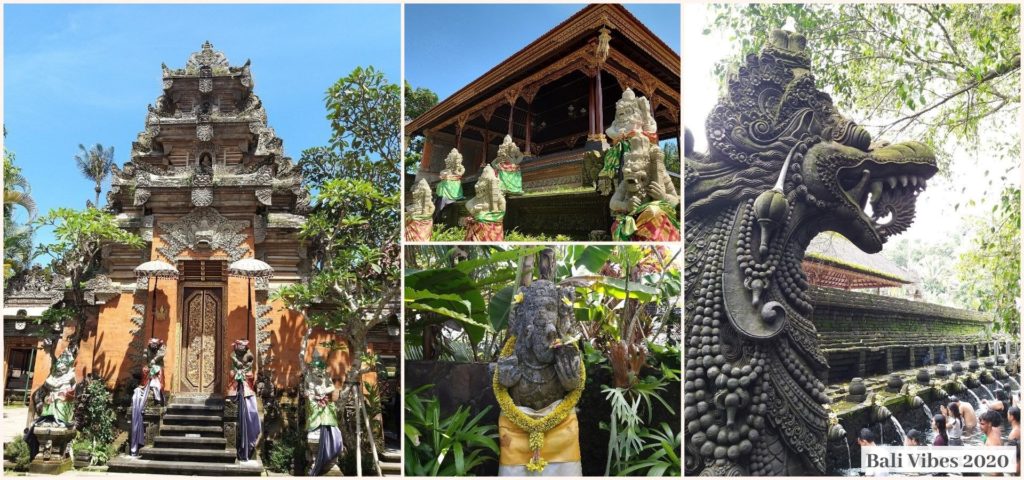 A Balinese massage is included in your package, but you can of course book as much as you want directly at the villa which has a private spa.
Nous vous avons également organisé un atelier de cuisine indonésienne par un chef local, avec dégustation bien sûr ensuite des plats que vous aurez préparés !
The day will end with a relaxing Yin Yoga class that will give you the opportunity to relax and enjoy the stay and the evening.
End of stay: Saturday, February 15 morning.
Accomodation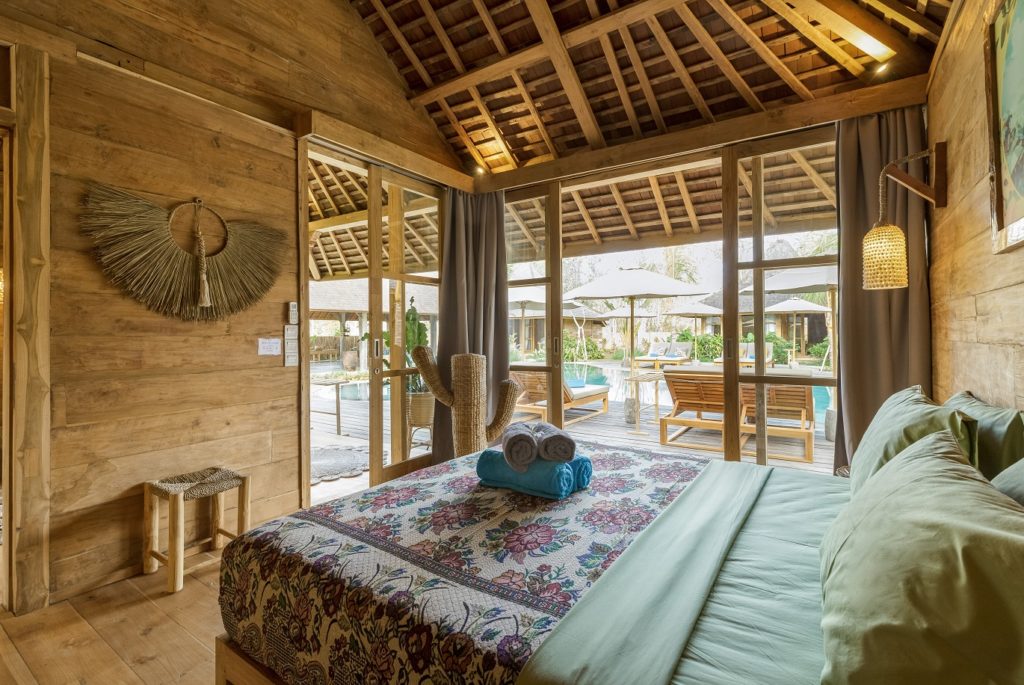 You will be accommodated in one of the beautiful bungalows located around the pool, each consisting of 2 bedrooms with a bathroom. Each room for 2 people is equipped with twin beds, easily convertible into double beds on request, with every comfort and air-conditioned.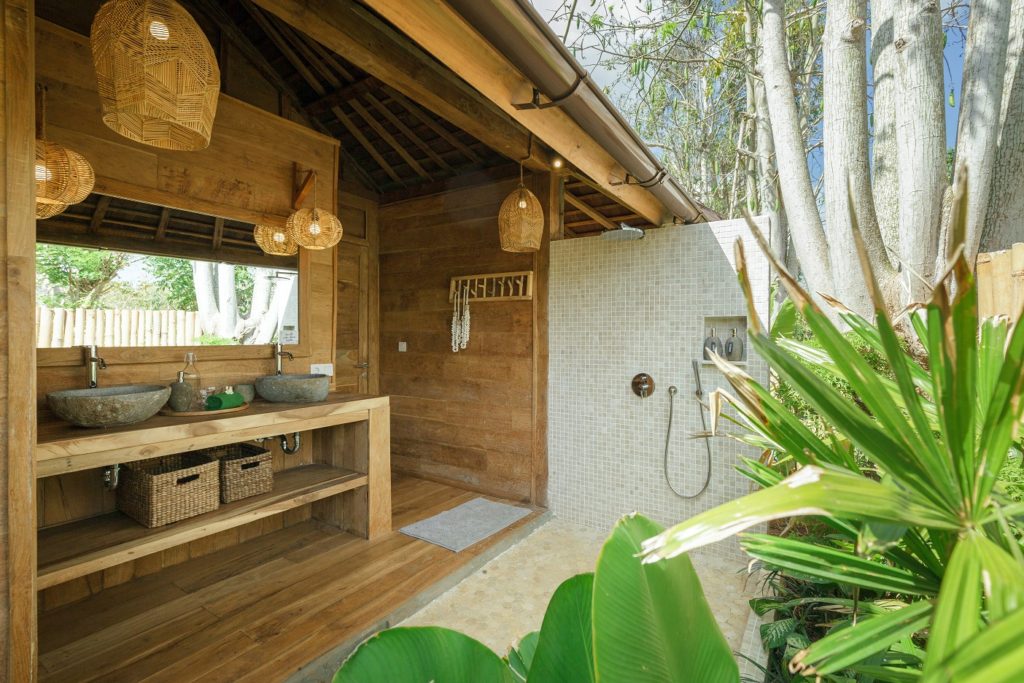 Food
Every morning, a light snack will be served before practice. After the yoga session, you can enjoy a brunch with vegetarian / vega / gluten-free options prepared by our chef Kira.
Many restaurants around the villa and on the beach will offer you for dinner a wide choice of Balinese and international options . You can also dine at the villa and even order a meal prepared by one of our chefs (on request).
The fully equipped kitchen with fridge is at your disposal throughout the day!
The last night we will take you for dinner together at sunset.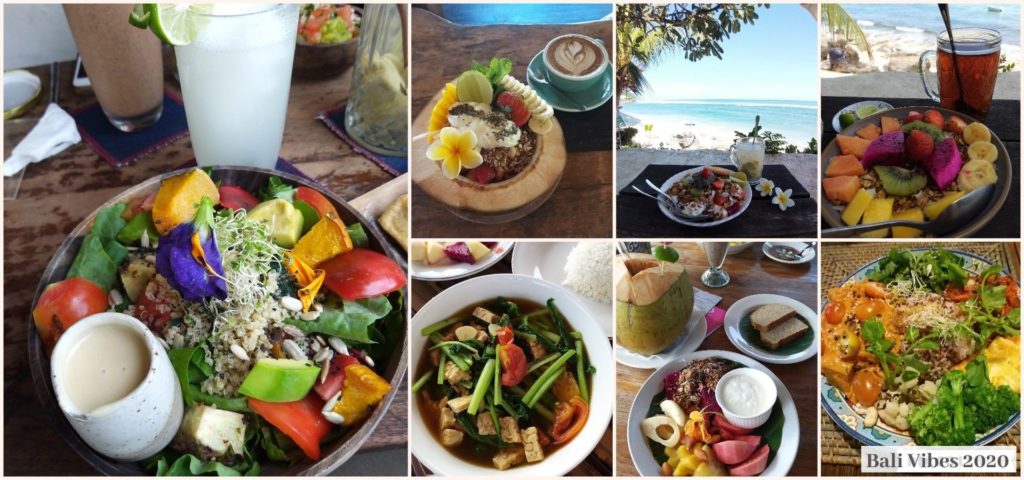 What is included
• 7 nights in a shared double or twin room, in a beautiful Balinese-style villa: Villa Bingin Retreat
• 12 yoga classes (2 per day from Sunday to Friday) + materials needed for practice
• 7 snacks: before the practice of the morning + 1 the day of the departure
• 6 delicious brunches after practice
• Last night's dinner, all together
• 1 Indonesian cooking workshop (and of course we will eat together the prepared dishes)
• 1 Balinese massage
What is not included
• your trip to Bali
• any visa fees
• transfers from the airport (but we can help arrange transfers or book a shared taxi)
• health insurance and travel
• all meals / drinks / services not included in the stay described above
• optional surf lessons
• optional massages and treatments
• workshops and optional excursions
Rates
• 790€ in shared double or twin room (*)
• 690 € for accompanying persons (without Yoga) & the Yogis practicing at the Mana Yoga Center
(*) Possibility of special room, on request and with supplement.
A non-refundable deposit of 389 € is required to confirm your reservation. The rest of the stay will be paid a maximum of one month before the trip.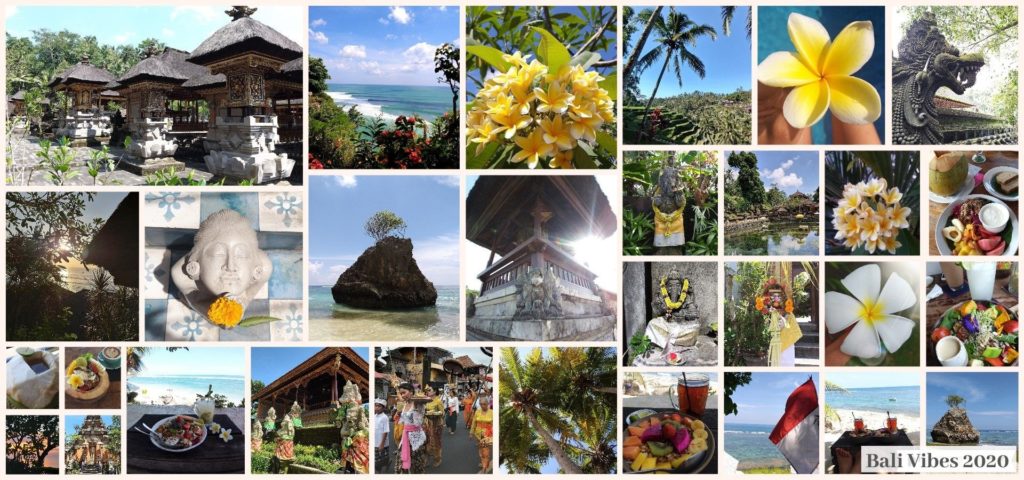 How to join us?
Contact us to receive the full brochure & booking formalities:
Anne : +33670331529 / yogifitbiarritz@gmail.com / Facebook / Instagram
Marion : ‭+33 6 87 75 22 63‬ / marion@soulshineyoga.fr / Facebook / Instagram
The event page on Facebook : Retraite de Yoga BALI VIBES
Your Hosts and Teachers
Anne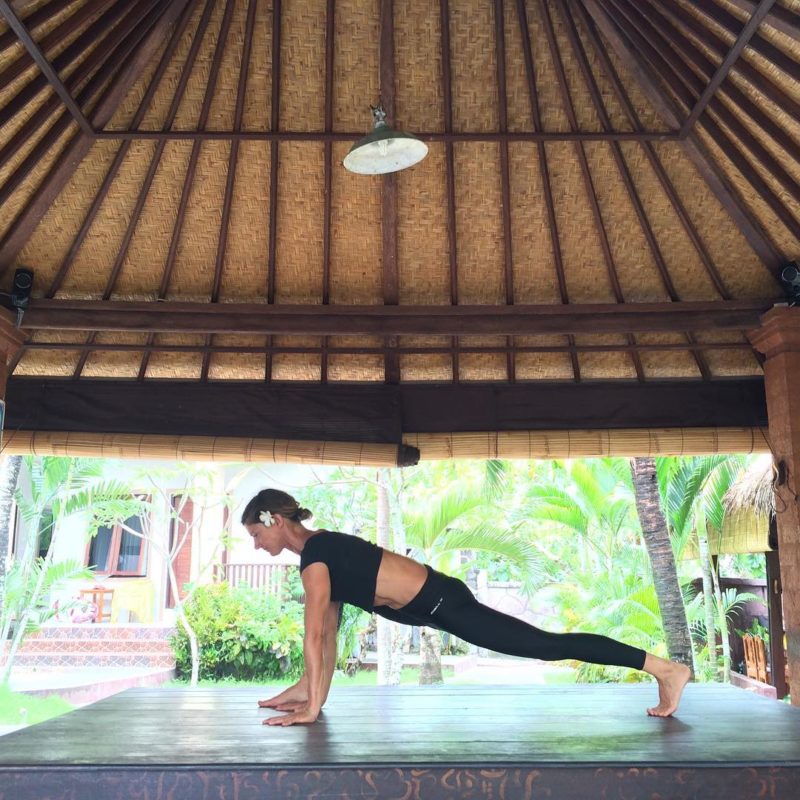 Anne is a passionated 500 hour certified yoga teacher, fitness coach and ocean lover.
Original from Germany, Anne is now based in the south west of France since almost 10 years. After her studying in Berlin she decided to leave Europe for the first time and fell instandly in love with traveling, yoga, the ocean and the surf.
Due to a back injury in the young age of 26 while traveling she was the first time confronted with her body not moving in a way it used to. To continue a painfree lifestyle full of movement and intense sports like snowboading and surfing she had to find a way to move her body in a more concious way. Thats when she got in touch with techniques of Pilates and Yoga to gain the strenght, flexibility and bodyconsicness she needed. She quite her job and decided to dedicate her life to her passion, the sport and yoga.
To increase her knowledge about the benefits of yoga, fitness, health and the human body she absolved several teacher trainings and studies.
It was one of her first yoga teachers, Caroline Zebrowski, who pushed and supported her to teach right after first teacher training. She gave her the chance to grow as a Yogi and find the confidence and knowledge as a teacher.
Inspired and taught by other teachers and trainings like Mathieu Boldron, Denise Payne and Edward Clark she understood what it means to share this passion for yoga and to become a teacher who follows her intution. Her style of teaching today is based on those different influences. She loves to combine the aspects of Yin and Yang" in her classes. The strength and fluidity of a dynamic Vinyasa, the Yang style, full of movement in the rhythm of the breath but as well the calm side, the Yin part of yoga. Where it is all about finding inner stillness and consciousness with you body and mind
Marion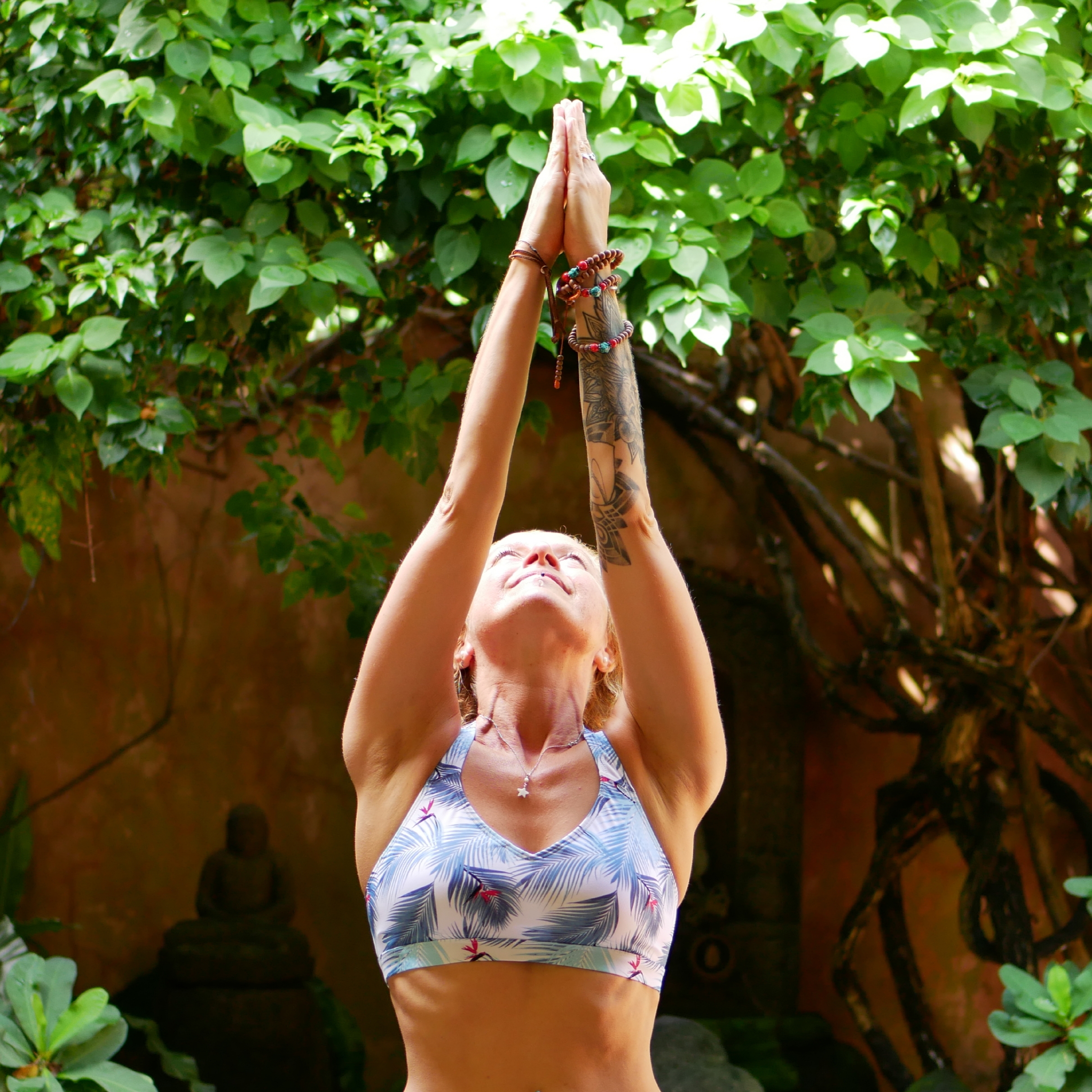 La rencontre avec le Yoga il y a 10 ans a bouleversé sa vie ! Amoureuse de la Nature, de la planète et de tous ses êtres vivants, elle a retrouvé dans le Yoga cette connexion à la vie, à l'univers et à l'autre – ouvrant une voie essentielle et un terrain de recherche infini.
Basée à Hossegor, elle propose des cours, ateliers et retraites en France et à l'étranger, alliant respect des traditions et ouverture pour permettre à chacun.e de s'épanouir dans sa pratique, dans l'engagement, la joie et la bienveillance, … de trouver son propre chemin sur la voie du yoga !

Depuis de nombreuses années, elle combine sa passion des voyages, de l'océan et du yoga en passant une partie de l'hiver à travers l'Inde, le Sri Lanka, l'Indonésie, … Elle adore découvrir de nouveaux lieux de pratique et de nouveaux professeurs, notamment de cultures différentes, s'enrichir de leur enseignement, de leur énergie propre et en imprégner ses cours.
Diplômée et certifiée en Hatha traditionnel, Ashtanga Vinyasa, Yin et Méditation, Marion continue à se former et à apprendre auprès de professeurs réputés et reconnus. Le merveilleux chemin du yoga est sans fin !
Parallèlement, elle a également créé « Faites du Yoga et une B.A. » afin de proposer des événements autour du Yoga au profit d'associations caritatives & environnementales.
Elle s'est également naturellement dirigée vers une forme de thérapie complémentaire, par le toucher, en se formant aux massages Thaï, Balinais et Auryvédiques.